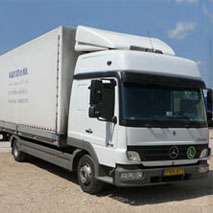 In order to satisfy our wide range of consumer needs, we need a professional infrastructural background based on serious logistics activities. When shipping, this means timely delivery and safety of the goods.
Our company not only provides the entire logistics background for the customers during shipping, but also guarantees the safety of the cargo and the punctual delivery. Our employees also have knowledge of the necessary legislation and routes for the full handling of the shipment. Our fleet of vehicles and the tools we use provide the most cost-effective solutions during transportation.
During the shipment, we provide the transport of goods for our customers up to several tons, for which we also provide special vehicles according to the needs.
What services do we offer during shipping?
domestic shipping
international shipping
direct or combined delivery
route planning
other goods transportation requiring special conditions
Why should you choose us to handle your shipping?
After more than two decades of professional experience, our company confidently undertakes:
warranty,
speed,
reliability,
and liability insurance up to USD 100,000.
Ask our staff about the more precise terms of shipping and the destination countries of international shipping.