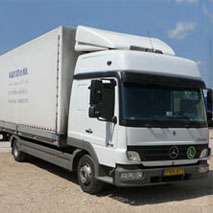 The legal predecessor of Nagy Út-21 Kft. started its business in 1993. It has been present in international transport since 1995. Our company has a network of contacts covering almost all countries of the European Union. We carry out our transport tasks accurately and flexibly, taking into account the interests of our clients. To help us, we have a modern administration system, professionally trained and committed drivers, and a fleet of vehicles (Euro V, Euro VI), which meets the current strictest European environmental protection standards. In order to inform our partners, we keep in constant contact with our drivers by phone, and with the help of the satellite tracking system built into our cars, we have accurate information about the current status of the goods 24 hours a day.
Our shipping and transportation liability insurance covers up to USD 100,000.
For our company, the motivation, training and commitment of our employees to our customers is a high priority. We provide continuous foreign language and professional further training for our employees working in the commercial department, and we also place great emphasis on appropriate professional training for the future generation.
Quality policy:
In order to operate successfully, Nagy Út-21 Kft. strives to achieve the full satisfaction of its clients with its services. Our main goal is for the quality of our services to continuously meet the defined, expected and hidden needs of our clients and clients. We strive for long-term relationships with our clients and partners. Our employees' commitment to quality is verified by their example and their conscious role in quality improvement.