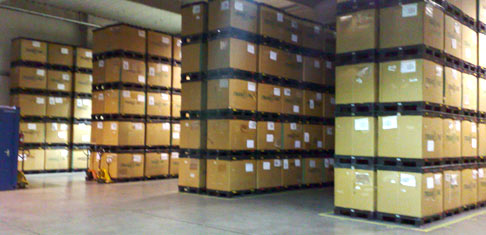 The continuity of trade requires a logistics background that, in addition to shipping and material handling, also includes tasks related to storage. However, in the absence of their own warehouse, traders do not always have the opportunity for the latter, since buying or building a warehouse entails a lot of extra costs. For such cases, however, contract storage offers a solution, which solves the problem of professional storage of goods in a cost-effective manner.
In addition to shipping and material handling, our company also provides its customers with warehousing services. Our company has been offering the latter to customers since 2007, within the framework of which they can use a full range of services. At our Veszprém site, a 290 m2 and a 1450 m2 closed and guarded warehouse are available to our customers, which we also rent out according to needs. Continuity and speed of warehouse work are ensured by modern electric and diesel powered forklifts. If necessary, hydraulic hand lifts and other aids are also available.
When warehousing is requested, thanks to our modern infrastructure, the professional storage of oversized, overweight and loads requiring special conditions is also solved. In addition, we also ensure fast and precise loading and unloading of goods, as well as the movement of larger unit loads.
In addition to warehousing, our company also ensures the delivery of the cargo to the location, whether domestic or international. If required, we also provide transshipment by truck.
Ask our staff about additional storage conditions and our rates.